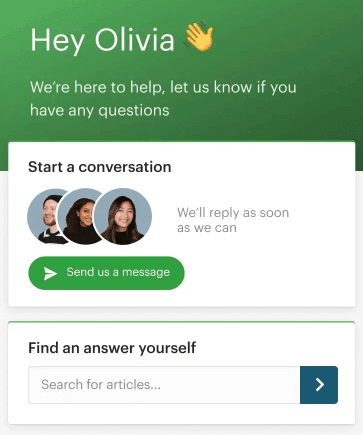 What is B2B marketing?
It differs from B2C marketing, designed to target individual consumers, in some key ways. The B2B sector generally involves longer sales cycles and makes use of different marketing channels. Online purchases, impulse purchases, and physical sales outlets are therefore all less important in B2B.
When a lot of marketers think of B2B marketing strategies, they tend to be thinking instead about inbound and outbound marketing tactics. But these are different things altogether.
Your marketing strategy defines your marketing goals, how you measure the success of your campaigns, who your target audience is, where and how your brand will be positioned. The different marketing tactics that you use all serve this overall strategy.
The best B2B marketing strategies: general strategy
As the workforce evolves, new trends emerge from the pandemic, and major platforms make (major) changes (see ya, cookies), the best ways to carry out the evergreen B2B marketing strategies are going to look slightly different each year. Here are some general approaches to take with respect to recent reports. You may also be interested in the 19 best marketing strategies that get results now.
1. Target millennials
By 2025, millennials will represent 75% of the global workforce. According to Merit's B2B Millennials Report, 73% of millennials are involved in product or service purchase decision-making at their companies, and 30% of them are the sole decision-makers.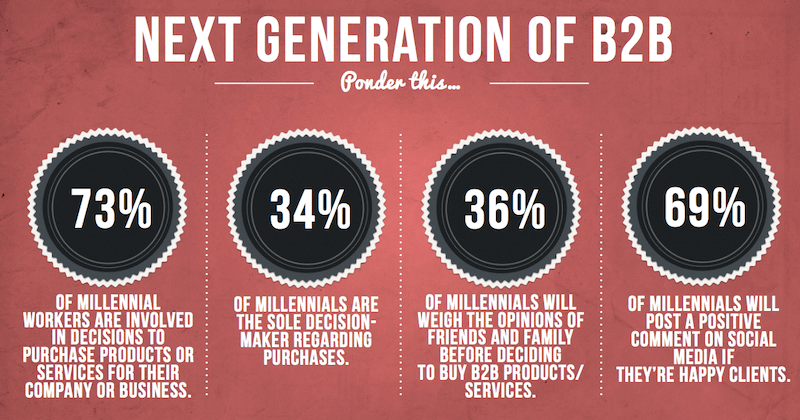 2. Take a B2C approach
The lines are being blurred between B2B marketing and B2C. This is due to the increasingly competitive nature of the digital space as well as the growing percentage of millennials in the B2B buyer population. In fact, according to Foleon's 2021 B2B Buyer Insights Report, 80% of B2B buyers now expect a B2C experience.
3. Cater to a longer buying cycle
It's always been known that B2B marketing typically has a longer buying cycle than B2C. But according to a study conducted by McKinsey at the end of 2020, the buying cycle has gotten even longer for B2B businesses since the pandemic.
4. Focus on first-party data
With the iOS 14 privacy update and Google eventually moving away from cookies, achieving precise targeting will become more challenging. Since knowing your audience is the fundamental first step for all types of marketing (see, I told you I'd talk about these things), first-party-data-friendly marketing campaigns are essential. Ways to collect first-party data include:
5. Supplement your automation with AI
Marketing automation and artificial intelligence (AI) are not one and the same. Marketing automation software is geared toward helping humans to carry out simple and repetitive tasks. This still requires configuring workflows around various scenarios and using the data to make manual optimizations. AI, however, uses data to mimic human intelligence and reasoning to make predictions, suggest optimizations, and dynamically apply them.
Combining automation and artificial intelligence gives you the best of both worlds: you get the efficiency and time-saving benefits of automation, along with the ability to recommend and make adjustments to the automation using data-driven insights.
The best B2B marketing strategies using SEO
6. Have an SEO keyword funnel
Since B2B buyers are doing such heavy research these days, and are not yet ready to buy during this process, having organic content that ranks at every stage of their journey is huge. This way, you're not only supporting their research, but you're also staying top of mind, displaying your expertise, and building trust throughout their whole process.
7. Create career development content
Even though you are a business selling to another business, the buyer is still an individual person with a specific role in their company. And solutions aren't the only things they are searching for online. They're also looking at ways to educate themselves, build their skill sets, and advance their career. Create career development content to establish your expertise while building connections with could-be customers and tapping into a whole new set of relevant keywords.
8. Stay on top of algorithm updates
Go Old School
B2B brands are spending more of their marketing budgets on online B2B marketing channels in 2022. That goes without saying. However, that doesn't mean online channels should be the only channel of marketing you do. People still go to work, communicate with their friends and family, and spend a legitimate amount of time without a screen in their face.
With that said, the following video outlines an actionable approach to measuring effectiveness of your efforts. More specifically, this approach to attribution modeling is great for identifying where your leads are originating from.
Therefore, implementing some old-school B2B marketing techniques is still an effective method. Word of mouth remains one of the top marketing tactics. For this reason, building a network that rewards the customers who bring in new clients is one of the best ways to spark referrals and recommendations.
As for conversational sales, you can use telesales, live chat and conversational marketing as a sales channel. Although it is not face to face, it is still contact with a real person, which will always convert much better than solely dealing with random emails or bots.
Also, old-school marketing such as flyers, TV, radio, newspapers, and magazines still have an impact. Just make sure to show your ads in the right kind of media. Business and finance magazines, talk shows on the radio or TV are all excellent examples. If you have a heftier budget, running advertisements on these networks can be useful.
Another old-but-gold tactic is organizing events, which falls under the category of experiential marketing. This will allow people to get to know you in an up close and personal fashion, which is something irreplaceable.
You can host your own events, but also attend and speak at other local business conferences whenever time permits. Make sure to attend the events even if you are not talking, as it is a great way to spread your network and make some new contacts.
B2B Marketing Strategy Takeaways
We hope this article helped you gain more in-depth insight into how to refine your company's approach to improve the effectiveness of your B2B marketing strategy. These actionable insights also follow industry best practices that will stand the test of time and will continue to be effective in 2022 and beyond.
After reading this, it's possible you may still feel a little bit overwhelmed. You might still not know exactly where to begin and implement these top B2B marketing strategies 2022. Don't worry — you are not alone as shown in the chart below.
Many expert B2B marketers can plan an effective approach, but often lack the internal resources to execute successfully your internal approved B2B marketing strategies. This is where we highly recommend having a conversation with veteran B2B marketing agencies who really know all of the ins and outs.
When you look at these top B2B marketing tactics strategies outlined above more closely, they don't seem that groundbreaking. They may even seem a little obvious. Yet even the best B2B marketing professionals are not fully leveraging these B2B marketing strategies to their full potential.
In this new decade, marketing teams wear many hats internally. For this reason, you should consider leaning on one of the expert niche B2B marketing companies to execute your vision and see a profound difference in your B2B marketing ROI.
Sources:
https://www.plezi.co/en/b2b-marketing-strategy/
https://www.wordstream.com/blog/ws/2021/06/02/b2b-marketing-strategies
https://www.310creative.com/blog/b2b-marketing-strategy